I would sooner have a root canal without anesthetic than plan a huge shopping trip to the mall on the day after Thanksgiving.  Today I am planning a series of naps and setting aside plenty of time to savor our Seattle Seahawks embarrassment of the 49ers yesterday at the 49ers home.  If you want to wrestle with crowds of crazed shoppers like those pictured above, be my guest.  Instead, I suggest you do your Black Friday shopping from the comfort of your home.  And if you want to make sure that your holiday purchases benefit not only your immediate family members but also members of our extended American family, I would urge you to visit one or more of the firms on my Simply American Black Friday Alert list.  Now let's get started!
This sale has the quickest expiration date; midnight EST today.  So don't dilly dally.  But it's a great sale.  25% off and free shipping.  I have tons of Bills Khakis clothing: khakis, shorts, and shirts.  You should too.  I have my eye on a Palmer Polo.
ManPan makes simply amazing cook and bakeware in Spokane, Washington.  ManPan is currently running a deal that if you buy $100 in ManPan products, you get $25 in credit to buy more ManPan stuff.  The deal runs through December 15, 2014.  I have my eye on the ManPan two piece frypan set.  For only $145, you get a 10 inch and a 12 inch ManPan frypan.
ManPan frypans have curved side walls that make flipping chicken breasts a snap. ManPan pans have a very cool Cool Grip Handle and are made of Hard Anodized .080 Aluminum.  ManPans are PTFE Free and have a Water-Based Release Coating called Gem-X2.  What that means is they cook like non-stick pans, but because they are made from aluminum, you can use metal utensils.  It also means you can put your ManPan frypans in the oven up to 700 Degrees Fahrenheit.  Oh, that's hot!
Brooks Brothers makes a lot of great clothes in the U.S., and some of those great clothes are now on sale.  If you are in the market for some new suits for the New Year, I recommend now is a good time to get some real savings on Brooks Brothers amazing suits.  Right now, you can get two suits for $1699.00 that normally would cost you $2600.00.  How about a Milano Fit Saxxon Wool Grey with Blue Stripe 1818 Suit?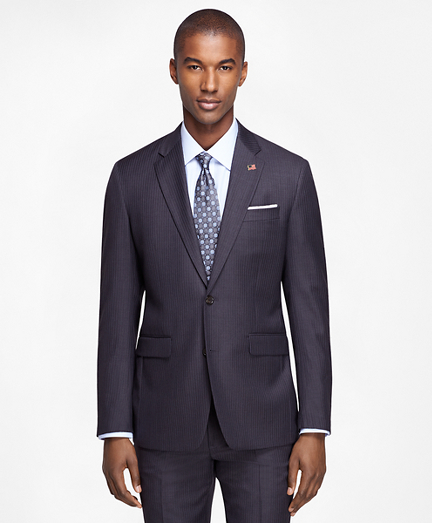 Or a Madison Fit Saxxon Nails Head 1818 Suit?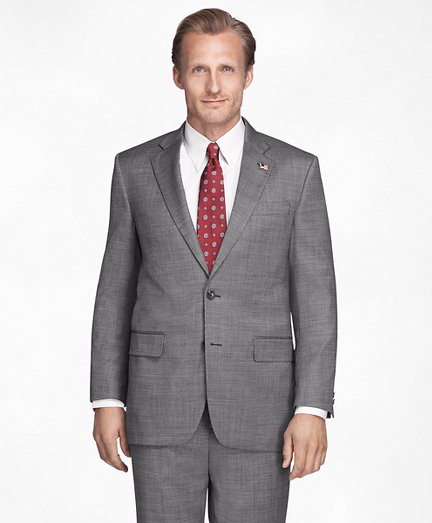 If you are set for suits, I would suggest getting in on the deal Brooks Brothers is currently running on their Traditional Fit Button-Down Collar Dress Shirts.  Three for $229, normal price of $285.  These are the only shirts I wear anymore and they are amazing.  The cotton in the shirts is incredibly soft and they just need to be pulled from the dryer and given a quick iron of the collar and you are good to go.  That is lucky because there are amoeba on Saturn that can iron a shirt better than I can.  I have three of these shirts that I have been wearing for almost three years and the cuffs still are completely presentable after I don't know how many washings and dryings.
If you don't know Allen Edmonds, now is the time.  Allen Edmonds makes amazing leather shoes and belts.  I have two pairs of their shoes and one of their belts.  And just yesterday I bought two of their belts because they were featured on Allen Edmonds' Black Friday Sale which runs until December 1st.  Yesterday I got a Black Dupyer Spring,
and a Brown Yellowstone Casual Belt.
I also have my eye on a pair of Brown Badlands Comfort Shoes, which retail for $295, but are on sale for $199.  Given the wet weather we have in Seattle, the rubber Vibram sole is a strong selling point.
If you or someone on your gift list needs American made shoes or belts, you need look no further than Allen Edmonds.
New Balance's Black Friday deals expire on Sunday, so don't waste any time on making choices.  On New Balance's website, enter the phrase "USA Collection" and you will be delivered to all their products made by members of our extended American family.  And you can buy them for 15% off and have them shipped to you for nothing!  Such a deal!  I am need of a new pair of New Balance shoes and have decided to design them myself.  If you didn't know, you can design your own New Balance Model 574, 993 or 990.  I am designing a pair of 993s.  Here are a few examples of custom 993s other people have made.
I bet you could make an even cooler pair!
I haven't done a post on Homage yet, but I should have done.  Homage makes amazing T-shirts and other things in Ohio.  Obviously, they have a real connection to THE Ohio State University.
But they do licensed apparel for a wide range of other Universities including my Dad's alma mater Columbia.
Until Sunday, all fleece such as the Columbia sweat shirt above are $50 while all t-shirts are $22.  Plus, if you order more than $75 in gear, you get a free Homage "Black Pack."
Okabashi, the American flip-flop company with the Japanese name, is having a great 25% off plus free shipping offer this weekend.  I have two pairs of Okabashis, the Glides
and the Classics.
Order some Okabashis for everyone on your gift list, and then watch this great video on Okabashi made by the great folks at This Built America.
Criquet is a cool apparel company that hails from the Lone Star State and also makes its shirts in Texas.  They have a sliding Black Friday discount depending on how much lolly you spend.  Spend $100 and you get 15% off your order.  Spend $300 and you get $30% off your order.  You get the picture.  I have not yet bought a Criquet shirt, but I have my eye on the American Made Classic Pique Polo in Peacoat.
Karen Kane has been making wonderful women's wear in the place of my birth, Los Angeles, for many years.  Lots of styles are 25% off if you enter the promo code BLACKFRIDAY at check out.  How about this Orange Floral Print Tank for only $19.50?
Less than $20 on sale and made by members of our extended American family in California.  What's not to like?
Last, but certainly not least, is the offer from Jack Donnelly Khakis.  I am featuring Jack Donnelly Khakis in my soon to be published book, Simply American, Putting Our Extended American Family Back To Work.  Jack Donnelly Khakis are available in several colors and they wear very well.  I own three pairs and am thinking about buying a few more pairs during the sale.  You can 35% off your entire order by entering the code USA35 at checkout.  I have my eyes on a pair of Dalton British Khakis.  What do you think?
Don't worry, I will wear socks with mine!
So now that you know that you can buy great gifts for your friends and family that are made by members of your extended American family, I urge you to do so.  Together, we can help rebuild the Middle Class in this Country simply by buying products made by Americans who ask only for an opportunity to work and support their families.  Pretty simple isn't it?
Now get shopping!!!